"Time plays an increasingly larger role, or reoccurring theme within my work," said Nicholas Ives inthe catalogue for an earlier iteration of the Saturn Devours series of works – "my recent experienceof becoming a father has heightened this awareness of my place within a changing and transitional and transforming world, as does my work teaching drawing from cadavers within the dissection suiteat university. These meditations upon life, death and absurd play between these pivotal poles of existence and being.

"Mythologically and astrologically, Saturn is complicated. Saturn is the god of time, generation, oldage, destruction, abundance, agriculture, liberation (as in the Roman festival of Saturnalia), reversal, ethics, precision, and melancholy. The Greeks and Romans believed that Saturn-Chronos ruled overa golden age in the distant past and would do so again in the future. Cicero encapsulates thiscontradiction in the De Natura Deorum (On the Nature of the Gods), by quoting Quintus Lucilius Balbus:

"By Saturn they seek to represent that power which maintains the cyclic course of times andseasons. This is the sense that the Greek name of that god bears, for he is called Cronus, which is thesame as Chronos or Time. Saturn for his part got his name because he was "sated"; with years; the story that he regularly devoured his own children is explained by the fact that time devours the courses of the seasons and gorges itself insatiably on the years that are past. Saturn was enchainedby Jupiter to ensure that his circuits did not get out of control, and to constrain him with the bondsof the stars."

All of these apparent contradictions come into play in Saturn Devouring. Ives' perennial subject is hisyoung son, and the love and anxiety of a father is likewise contradictory and Saturnine. Ives' primarytouchstone is Francisco Goya's morbidly horrific Saturn Devouring His Son (c. 1819-1823). Althoughnowhere near as dark as Goya's "Black Paintings" (Ives' palette is actually quite colourful in thisinstance) either in tone or palette, there is a suggestion of the Spaniard's shadows, ambiguous backgrounds and unmappable space.

Mythologically Saturn devoured his own children to prevent their eventual overthrowing of him. Saturn, therefore, can reflect the unconscious parental anxiety of inevitable obsolescence as a childcomes of age (loosely one orbit of Saturn, just short of 30 years). More consciously Ives has naturalconcerns that he might inadvertently do harm, which can be exorcised in the form of Saturn though painting .

Here we might thing of post-Jungian notion of the "Devourer". Many will be familiar with Carl Jung's"Devouring Mother" archetype - the mother that consumes her children psychologically andemotionally through her self-absorbed and smothering love, utilising guilt to prevent her childrenbecoming independent. Among some Post-Jungians, the male counterpart is the "Devouring Father"– the opposite of Jung's "Absent Father" – represented by Saturn devouring his children. The classical Jungian may wish to simply assign it as an aspect of the feminine Anima that dwells within the male.

That, despite the title of this body of work, Saturn makes no obvious appearance in the paintings,suggests that Ives is interrogating this aspect of parent in the collective unconscious, keeping it at asafe distance. In this role, the paintings are therapeutic, cathartic, but Saturn can also be a force forpositivity and renewal. In the prophecy of the Cumaean Sibyl, the future age of Saturn would bemarked by the birth of a messianic, apollonian boy child who will come to rule over the world. As Virgil says in his Fourth Eclogue:

"Now the last age of the Cumaean prophecy has come:
The great cycle of ages is born anew.
Now returns the Virgin [Astraea, Justice], returns the reign of Saturn:
Now from high heaven a new generation comes down.
Yet do thou at that boy's birth, In whom the iron race [the base race of modern humanity] shall begin to cease,
And the golden race [perfect humanity] to arise over all the world…"

Is it any wonder that medieval Christians latched onto this as some kind of pagan prophecy of the coming of Christ? I am sure Ives similarly regards his son as an otherworldly god like being, appearing in some of these paintings as a golden, faun like creature – as would any father for their child, and forhim, his own son is of course some kind of heavenly divine being. Indeed, the god Faunus was the grandson of Saturn. Saturn also represents the vicissitudes of life from birth to death, and it makessense to invoke this most ancient of classical gods in the context of this work. For the last few years Ives' paintings of his son have amounted to his own wondering and besotted Child of Our Time/7 Uplongitudinal study of his son's development.

In turn this has become a larger allegory of human life – as Shakespeare says in Hamlet: "And one man in his time plays many parts, His acts being seven ages. At first, the infant, Mewling and puking in the nurse's arms…" all the way to "second childishness and mere oblivion, Sans teeth, sans eyes, sans taste, sans everything." Ars might be longus, but vita brevis. There are hints, however, that Ives may have fully worked through this, and his mind is moving on to other things.

Saturn, via association with Chronos, is the god of time. The ancients believed Saturn to be theoldest of the moving stars, the first set in motion, and would be the one to usher in the end of theworld upon his awakening. Saturn's orbit was symbolic of the passage of time, from birth to death ofthe individual and the rise and fall of civilisations.

"I used [Saturn] as it was as way of darkly addressing the ever-flowing march of time," says Ives."Most of the works feature an interaction or encounter of the Subject with an exteriority and plays with the space and existential 'becoming' resulting from this encounter - a learning from the world. Again, I'm interested in the ontological formation of the subject and self, as I observe this changeand evolution in my son."

Jung's interpretation of Saturn and this idea of renewal and becoming in Volume 9 of the CollectedWorks lends itself well to observation of the painter: "When, therefore, an alchemist conjured upthe spirit of Saturn as his familiar, this was an attempt to bring to consciousness a standpoint outsidethe ego, involving a revitalisation of the ego and its contents." Saturn is also the planet ofmelancholia, the humour traditionally associated with artists and creativity in solitude. Saturn is theever-present shadow of death."

There's a melancholy here," says Ives, "to time passing, and a sadness to it. Saturn, as a symbol ofthe seasons, agriculture and generations, and who is ultimately destroyed by his son, is a reflectionof new life that must inevitably take the place of that which came before. The gallery space too took on crypt or tomb like qualities at times, which I felt pushed this narrative also."

There remains a continuity with the rest of Ives' oeuvre, particularly Natural Intensities and Youth's Ephemera, though there is a distinctly more serious and sombre tone to the works in Saturn Devours. The delight and joy have been pitched down, as has the Bonnard-esque exuberance. The gestural and impressionistic brushwork is still there, but there is far less of the deconstructive impulse like Thanos snapping his fingers in Avengers: Infinity War. There is a mannerist quality to the imagery that seems fitting for an uncertain subject in an uncertain time.

"This body of work was produced over 18 months," says Ives, "at the same time as Natural Intensities from last year, though the bodies of work are distinct. These works are more 'solid' and defined, whereas Natural Intensities was looser, more open-ended, in a state of becoming andformation - a site of potentialities. Here things are more grounded perhaps, yet still painterly."

Ives is a painter who, unusual these days, is actually in love with painting, and as his technique grows ever more sophisticated, the thematic elements grow deeper and more philosophical. He is apainter's painter. His work is intensely human, defying abstraction and mediating between the vicissitudes of process and the deeply intimate. He continues to explore the infinite possibilities ofpaint as a vehicle for life and each new phase disrupts the last.
'Among the Flowers' 2023
oil on linen, framed.
64cm x 54cm
AUD 3,500
SOLD
'Curious as a kitten' 2023
oil on linen, framed.
78cm x 58cm
AUD 5,000
CONTACT
'Somthing to remember you by' 2022
oil on linen, framed.
54cm x 43cm
AUD 3,500
CONTACT
'The old make room for the young' 2022
oil on linen, unframed.
30cm x 26cm
AUD 1,900
CONTACT
'Hyposubjects' 2022
oil on linen, framed.
33cm x 25cm
AUD 2,500
CONTACT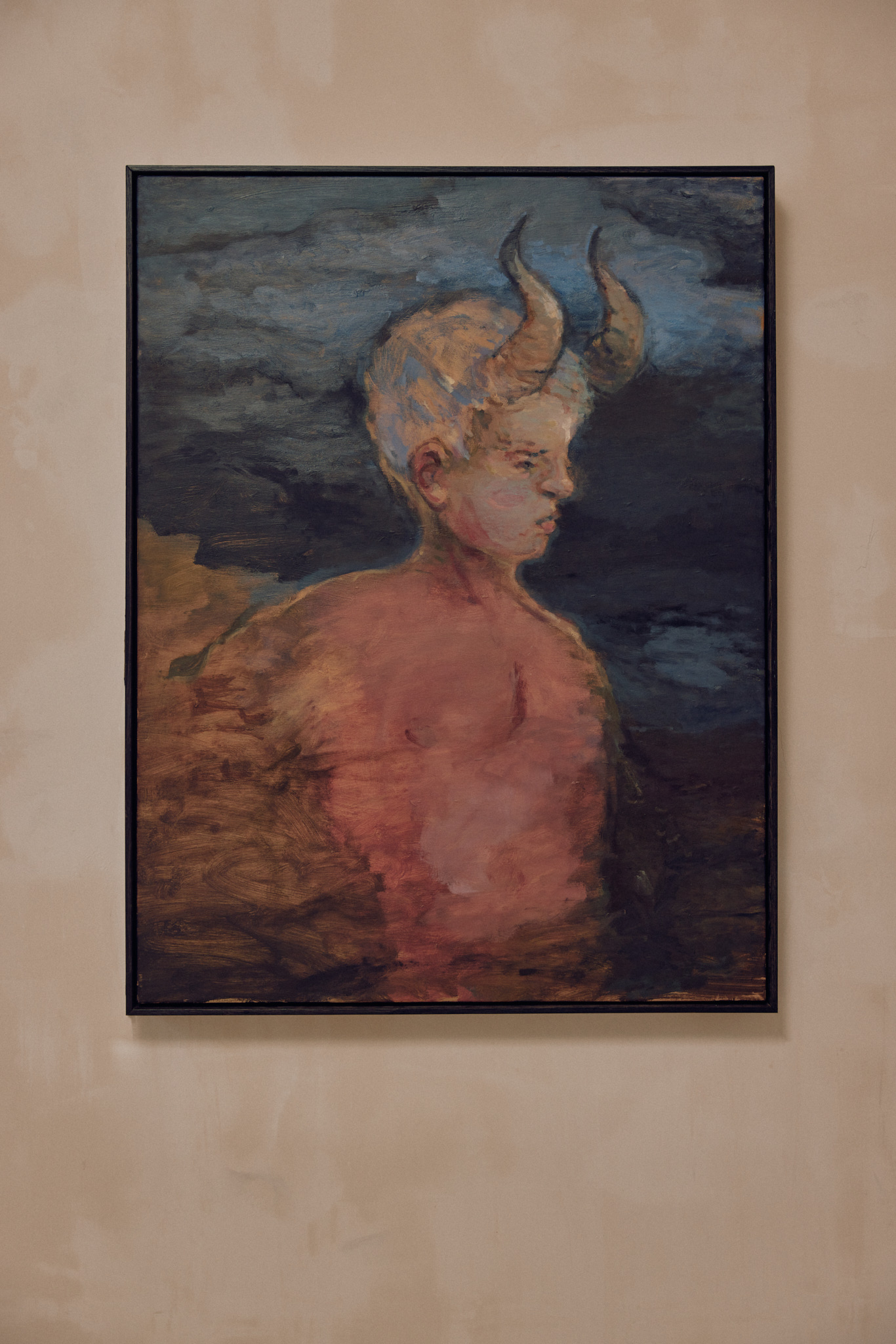 'Nature Boy' 2023
oil on linen, framed.
84cm x 110cm
AUD 6,000
CONTACT
'Ouroborus (Boy with Snake)' 2023
oil on linen, framed.
125cm x 170cm
AUD 10,000
CONTACT
'Son of the Werewolf' 2023
oil & hair on linen, framed.
43cm x 34cm
AUD 3,000
CONTACT
'New Peoples' 2022
oil on linen, framed.
44cm x 33cm
AUD 2,800
CONTACT
The Wandering Acrobat, 2022
Oil on Linen, framed.
77cm x 56cm
AUD 4,000
CONTACT
A Natural Feeling, 2022
Oil on Linen, framed
61cm x 51cm
AUD 3,000
CONTACT
Encountering Wilderness, 2022
Oil on Linen, framed.
61cm x 51cm
AUD 3,000
CONTACT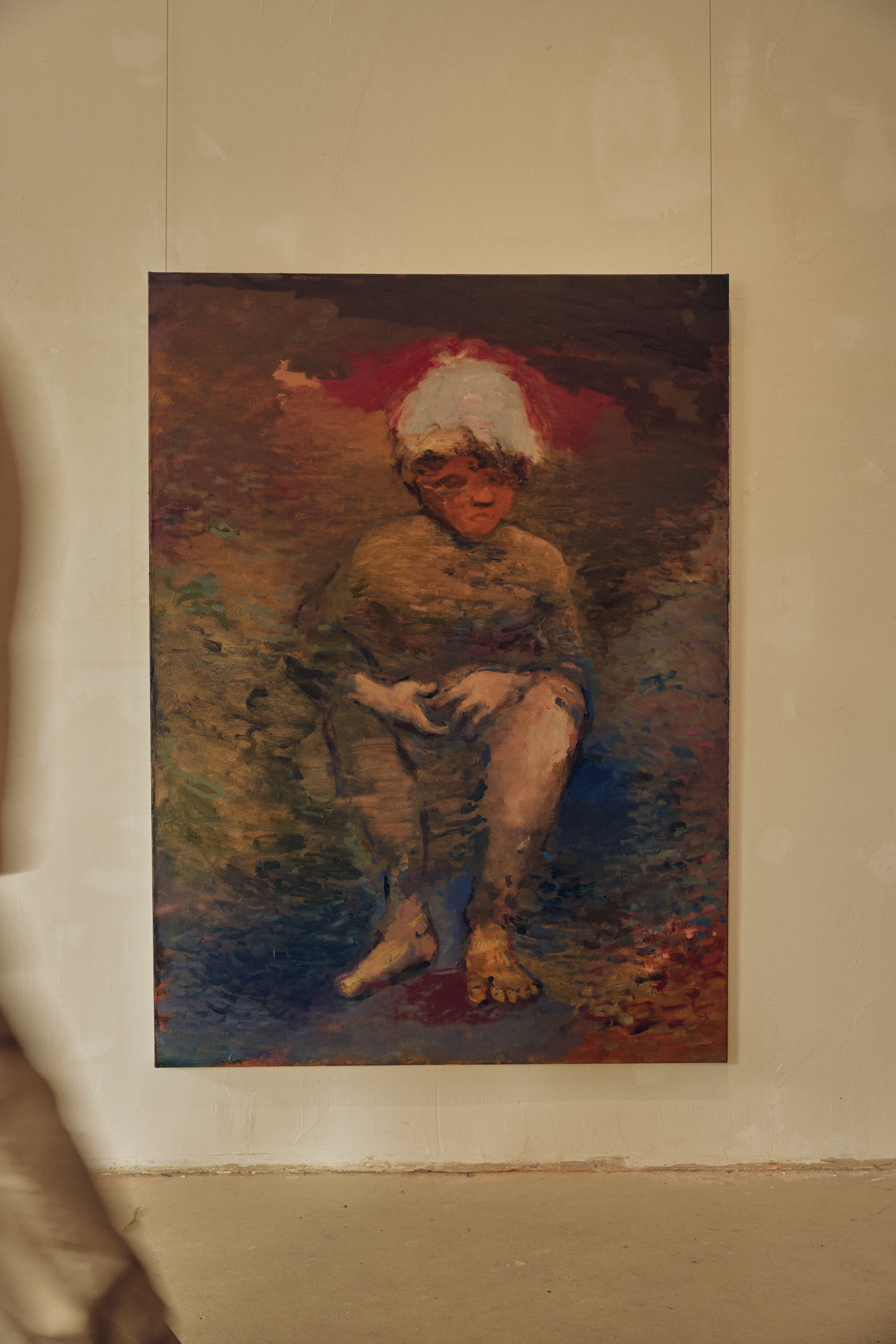 Together for a While, 2022
Oil on canvas
167cm x 120cm
AUD 7,500
CONTACT
Jouissance, 2022
Oil on Linen, framed.
91cm x 76cm
AUD 5,000
CONTACT